Playing with Yarn, Fibre & Textiles
I've now completed two different kits. The original plan was to launch one a year, but they were so popular that two were released in 2012/2013.

I have learned a lot about creating interesting kits. I've also found that the people who are buying them like the same things I do - something unique, quality items, with pieces sourced from local artists and designers. I can't wait to put together more in the future.

Look for two new kits for the 2013/2014 year.

The first kit was "Wave Maiden", the Wave Maiden Pattern Designed by Michelle Miller, The Fickle Knitter. I will be reissuing these kits for the Fall/Winter 2013/2014 colour ways as the demand is still strong.

The second kit was "Hugin and Munin", the Hugin and Munin (Raven) Pattern Designed by Anna Dalvi, Knit and Knag. Again, popular kits so another 50 are planned with the yarn TORC.

KITS ARE ALWAYS LIMITED. The kits are a labour of love. So I have to limit how many I can make at this point. So far I'm limiting them to 50 kits for each pattern. If there is enough demand, I will source the materials for 50 more. 100 will be the all time maximum for each pattern.

I will be issuing 30 more kits for Michelle's Wave Maiden Pattern in the new Fall Winter Colourways in TYR and, 40 more kits for Anna Dalvi's Hugin & Munin Pattern in TORC.

If you are interested, send me a message before September 10, 2013. After that date the Kits will be available at Knit City, October 26 & 27th in Vancouver. Any kits unsold in Vancouver will be posted on line in early November 2013.

See below for a short bio on both designers and a photo of the Shawls from the kits.


Michelle Miller, The Fickle Knitter
, is known for her fabulous one-skein projects. Bags, shawls, slippers, hats, cowls. She has proof she's a real scientist (I saw her degree on her blog a few years ago!) I wonder if that's why Michelle's designs are a bit unusual. Her shawls are gorgeous, but they are not standard treatments for triangles. There's always something a bit different, a risk, a challenge and yet they are always a breeze to knit. I met Michelle by offering to test knit for her a few years ago and we've been internet friends ever since. I hope in 2013 I will finally meet her.
Photo on right is Michelle's "Wave Maiden" from our Fall 2012 kit.
You can check out Michelle's
Fickle Knitter
website, or find her on Ravelry under designers
Michelle Miller
.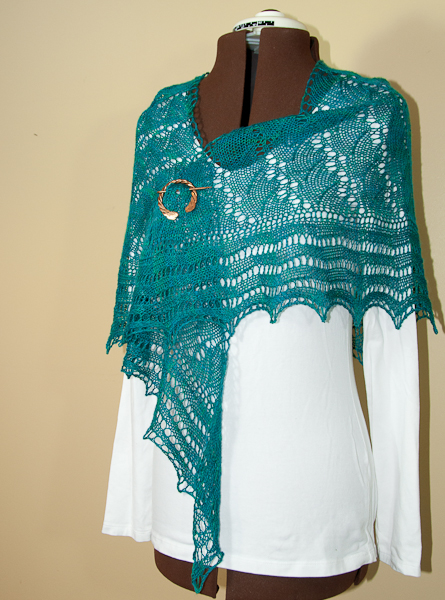 Anna Dalvi, Knit and Knag
, and a Canadian Designer, I also found through Ravelry. Anna has a passion for interpreting myths, fairytales and stories through her shawl designs. Given my predilection for the same thing, I emailed her wondering if she'd be interested in working together. Within weeks she asked if I had any yarn she could use for a design for her first book, Shaping Shawls, and we've worked together since. The shawl on the cover of Shaping Shawls is with Rocky Mountain Dyeworks yarn 'Mistaya Lace'. What a kick it was to see my yarn on the cover.
Anna has shawl designs with Rocky Mountain Dyeworks in her new book "Ancient Egypt in Lace and Color".
Most of the Rocky Mountain Dyeworks yarns have been kept as Raventwist yarns. You can find a substitution list here in the
Ravelry Raventwist Group
Shawl on left is Anna's "Hugin & Munin" Raven shawl from our kit launched February 2013.
You can find Anna on her website,
Knit and Knag Designs
or on Ravelry as
Anna Dalvi
Stay in touch through our quarterly newsletter - news, shows, yarns & fibres, books to read, projects to make.